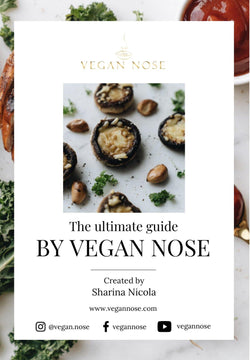 Vegan Nose
Ultimate Vegan Guide
The Ultimate Vegan Guide includes:
Six Meal Prep Options - Vegan, alkaline and transitional meal options that target fitness and weight loss. The transitional meal guide assists with meal ideas on your path to a full Vegan lifestyle.
Grocery Guide - Veggie List, Seasonings, Oils, Flours, Drinks, Vegan and Alkaline meat substitutes and much more
Smoothie Guide - Guide to understanding why fruit and veggies shouldn't be mixed. 

The Ultimate Vegan Guide is intended to serve primarily as a reference guide however, there are also recipes included for your enjoyment. The Ultimate guide will help anyone accomplish a healthier lifestyle. Download your guide today! For more information, contact us via email at info.vegannose@gmail.com.